Meditation and practicing law. Try it. You will be surprised a the clarity of mind.  I find some quiet time or contemplative time is good for you body and mind.
The Chart
Editor's note: Beginning today, CNN contributor Amanda Enayati ponders the theme  of "Seeking Serenity: The quest for well-being and life balance in stressful times."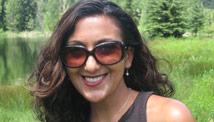 "Does scratching my eyes out count as a stress reliever?" asks Pamela, an attorney with whom I am discussing ways in which lawyers attempt to alleviate anxiety.
"Well, no," I say. "It's quite the opposite, really."
"That's all I know," shrugs Pamela, done with the topic. "And don't use my last name cause of, you know, the law firm mafia."
I had been searching for meditating lawyers — yes, I mean meditation, not mediation — since a few days earlier when I happened to meet one in a parking lot. The woman — Barbara, a managing partner at a hedge fund — was in the throes of a merger when I met her. And yet she was like no attorney I have ever known.

View original post 1,116 more words